Ronaldo and Xabi Alonso talk about el clasico HD
Xabier "Xabi" Alonso Olano (Basque pronunciation: born 25 November 1981) is a Spanish World Cup-winning footballer who plays for Real Madrid as a midfielder.
Alonso began his career at Real Sociedad, the main team of his home region Gipuzkoa. After a brief loan period at SD Eibar he returned to Sociedad where then manager John Toshack appointed Alonso as his team captain and Alonso succeeded in the role, taking Real Sociedad to second place in the 2002–03 season. He moved to Liverpool in August 2004 for £10,5 million. He won the UEFA Champions League in his first season at the club, scoring the equalising goal in a final in which his team had been 3-0 down at half-time. The following season he won the FA Cup, and subsequently also the FA Community Shield. He moved to Real Madrid for the start of the 2009–10 season, in a deal worth around £30 million, thus making him the fourth most expensive midfielder. Internationally, Alonso has represented Spain in the Euro 2004, Euro 2008 tournaments and in the 2006 World Cup and 2010 World Cup. He made his international debut in April 2003 in a 4–0 victory against Ecuador. He won the Euro 2008 and the 2010 World Cup with Spain.
He holds the record for the longest-range goal ever scored in open play in the Premier League, being some 61 yards away from Steve Harper's line when he netted against Newcastle United in 2006. The season before, he scored from 78 yards with an effort against Luton Town at Kenilworth Road in the FA Cup.
Alonso was born into a family known for its footballing prowess. His father, Periko Alonso won the La Liga twice in successive seasons with Real Sociedad and a third time after he moved to FC Barcelona. He also featured in the national team, winning 20 caps over the course of his career. Born in Tolosa, a small Basque town, Xabi Alonso lived in Barcelona for the first six years of his life and moved to San Sebastián thereafter. It was here that his passion for football began as he whiled away his childhood playing at Playa de la Concha (Shell Beach).On the Basque sands Alonso befriended a fellow resident of Calle Matia, Mikel Arteta, and the two would battle each other in exhibitions of technical ability. He was immersed in football and his father would often bring him and his older brother, Mikel, to CE Sabadell's training ground to practise together. Alonso was influenced by his father's playing, taking more pleasure in passing the ball well than shooting at goal. At an early age he decided to play as a defensive midfielder: a role which helped him learn how to distribute the ball well. This talent would later prove to be an integral part of his club and international career
When he was 15, Alonso went to the Irish town of Kells, County Meath on a school exchange programme to learn English. During his time there, he played Gaelic football and developed a keen interest in the sport.
Alonso and Arteta were ambitious and dreamed of playing alongside each other for Real Sociedad when they were older. Though they attended different schools, the two young players joined forces at the local youth side Antiguoko, playing games at the weekend. Their performances attracted the attention of scouts from top Spanish sides and the young Donostiarras separated ways, ending nine years of friendly rivalry, as Alonso went to Real Sociedad and Arteta moved to Catalan giants Barcelona However, Alonso's move to Real Sociedad was not a companionless one as he was joined by his older brother Mikel Alonso who had also become an adept player.
Alonso progressed through the youth ranks and the reserve team at Real Sociedad and impressed enough to earn a first team debut at the age of 18. He made his first senior appearance against CD Logroñés in December 1999 in a Copa del Rey match. Alonso failed to make another appearance in the season but the following year brought more opportunities. At the beginning of the 2000–01 season, Javier Clemente sent Alonso to Segunda División team SD Eibar to gain experience. Alonso's father particularly felt the move to the smaller club improved him as a player.However, a quick turnover of managers, including a two month period with Periko Alonso in charge, left Real Sociedad in a dire situation. By January 2001 Real Sociedad were bottom of the league and the new manager, John Toshack, turned to the prodigious Alonso in the hope of reversing the team's fortunes. In a surprise move, the Welsh manager made 19 year old Alonso the team captain, a position traditionally held by more senior players. By the end of the season Sociedad had climbed out of the relegation zone and finished in 14th place Toshack lauded Alonso, noting that the impression he had on the team was exceptional, especially for a player from the youth-team.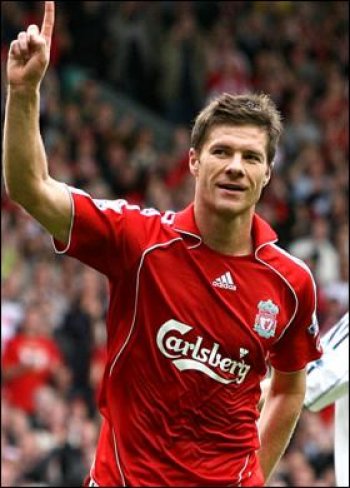 Under the guidance of John Toshack, Alonso's captaincy marked a resurgence of form for Real Sociedad. Toshack recognised Alonso's potential and invested much time in his young captain, creating a training method designed to improve his touch and control specifically for him.The team cemented their mid-table position in the 2001–02, finishing in 13th place. Alonso appeared consistently in La Liga with 30 appearances over the course of the season and also scored his first league goal, finishing with a season total of 3. Real Sociedad's management changed again in the summer of 2002 with the arrival of Raynald Denoueix but Alonso kept his place in the first team on the strength of his past performance.
The 2002–03 season was the club's best league performance since the 1981-1982 season in which they won the league. The Basque team finished second, two points behind Real Madrid, setting a club record for their highest ever points total and qualifying for the UEFA Champions League for the first time. Alonso received much praise for his role in the team's success and was given the Best Spanish Player award by Spanish sports magazine Don Balón. In addition, Alonso significantly contributed to the team's goal tally, scoring 12 goals in all competitions.His performances earned Alonso national repute and Iñaki Sáez, the coach of the Spanish national team, called him up for La Selección. Alonso made his international debut in April 2003 in a 4–0 friendly win over Ecuador.Sáez raved over Alonso saying: "He has a fantastic range of accurate passing [and] sees football with an extraordinary clarity".
The 2003–04 season comprised mixed results for Alonso and his San Sebastián club. Alonso revelled in the opportunity to perform in Europe, appearing in all the team's games, and Real Sociedad qualified for the knockout phase of the Champions League. However, the team struggled under the pressure of the extra matches and were promptly knocked out of the tournament by Lyon and finished 15th in La Liga. The combination of Alonso's outstanding performances and the team's poor league finish made a move away from Estadio Anoeta inevitable. Despite interest from La Liga champions Real Madrid, Alonso remained committed to Real Sociedad. Madrid failed to meet the £13 million price tag that Jose Luis Astiazaran, the Real Sociedad president, had placed on Alonso and the deal reached a stalemate.Alonso had other concerns and focused on international duty with Spain at the Euro 2004 tournament. Despite the fact that Alonso's appearance at the tournament was brief, he caught the attention of retired footballer Jan Molby who was impressed with his precise passing abilities.
The summer transfer window at Real Sociedad saw the arrival of Alonso's childhood friend Mikel Arteta. Arteta was ecstatic at the prospect of partnering Alonso in midfield but his excitement was short lived. Alonso was not picked for Real Sociedad's pre-season friendlies, signalling that an offer by Liverpool was being treated seriously. The Basque side announced on 20 August 2004 that they had made a deal worth £10.7 million with Liverpool and Alonso had agreed terms with the Merseyside team. did not lament the fact that a move to Real Madrid had not materialised. Instead he concentrated on integrating with the new Spanish contingent at Liverpool under the guidance of, ex-Valencia coach, Rafael Benítez.