Pete Sampras: The king of swing!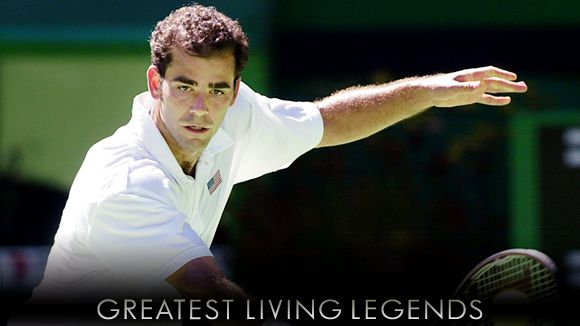 Petros "Pete" Sampras (pronounced) (born August 12, 1971) is a retired American tennis player and former World No. 1. During his 15-year tour career, he won 14 Grand Slam singles titles and became recognized as one of the greatest tennis players of all time.
Sampras debuted on the professional tour in 1988 and played his last top-level tournament in 2002 when he won the US Open, defeating rival Andre Agassi in the final. He was the year-end World No. 1 for six consecutive years (1993–1998), a record for the open era. His seven Wimbledon singles championships is a record shared with William Renshaw. He spent 286 weeks at number 1, the most of any player. His five US Open singles titles is an open-era record shared with former World No. 1 players Jimmy Connors and Roger Federer. He won five ATP World Tour Finals, a record shared with Ivan Lendl and Federer. Sampras is the last American male to win Wimbledon (2000) and ATP World Tour Finals (1999).
Pete Sampras was born in Potomac, Maryland, and is the third child of Sammy and Georgia Sampras. His mother immigrated from Sparta, Greece, and his father was born in the United States to a Greek immigrant Jewish father and a Greek mother. Greek culture played a big role in his upbringing. attended regular services of the Greek Orthodox Church on Sundays. From an early age, Sampras showed signs of outstanding athletic ability. At age 3 Sampras discovered a tennis racket in the basement of his home and spent hours hitting balls against the wall. In 1978, the Sampras family moved to Palos Verdes, California, and the warmer climate there allowed seven-year-old Pete to play more tennis. From early on, his great idol was Rod Laver, and at 11 Sampras met and played with him. The Sampras family joined the Jack Kramer Club, and it was here that Sampras's talent became apparent. He was spotted by Peter Fischer, a pediatrician and tennis enthusiast, who coached Sampras until 1989. Fischer was responsible for converting Sampras's double-handed backhand to single-handed with the goal of being better prepared to win Wimbledon.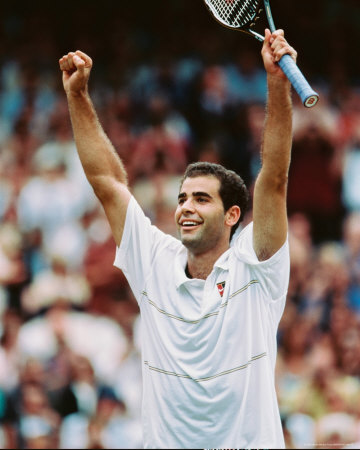 Sampras turned professional in 1988, at the age of 16, and finished the year ranked World No. 97 after starting the year at World No. 893. His first professional match was a loss to Sammy Giammalva, Jr. at the February Ebel U.S. Pro Indoor in Philadelphia. But just one week later at the Lipton International Players Championships in Miami, Sampras defeated two top-40 players before losing to World No. 18 Emilio Sánchez. He did not defeat another top-40 player for almost six months, when he defeated World No. 39 Michiel Schapers at a US Open warm-up tournament in Rye Brook, New York. In his first Grand Slam singles match, Sampras lost to World No. 69 Jaime Yzaga of Peru in the first round of the US Open 6–7(2), 6–7(4), 6–4, 7–5, 6–2. Sampras did not advance past the quarterfinals in his next three tournaments, although he did record wins over World No. 79 Jim Courier, in their first career match-up, and World No. 8 Tim Mayotte.
The following year, Sampras slightly improved his ranking to a year-ending World No. 81. He lost in the first round of the 1989 Australian Open to Christian Saceanu and the first round of Wimbledon to Todd Woodbridge 7–5, 7–6(5), 5–7, 6–3. He won a Grand Slam singles match for the first time at the French Open before losing in the second round to eventual champion, 17-year-old Michael Chang, 6–1, 6–1, 6–1 in their first career match-up. At the US Open, Sampras defeated defending champion and fifth-seeded Mats Wilander in the second round 5–7, 6–3, 1–6, 6–1, 6–4 before losing to World No. 13 Jay Berger in the fourth round. To end the year, Sampras lost in the first round of four consecutive tournaments.
Sampras finished 1990 at World No. 5, having started the year ranked World No. 61 just prior to the start of the Australian Open. He lost to Wilander in the quarterfinals of the tournament in Sydney. At the Australian Open, Sampras upset twelfth-ranked Mayotte in the first round 7–6(6), 6–7(5), 4–6, 7–5, 12–10 before losing to thirteenth-ranked Yannick Noah in the fourth round in four sets. His first professional singles title came in February at the Ebel U.S. Pro Indoor in Philadelphia, where he defeated sixth-ranked Andre Agassi, eighth-ranked Mayotte, and eighteenth-ranked Andrés Gómez in the final. This title elevated his ranking into the top-20 for the first time. Sampras did not play the French Open and again lost in the first round of Wimbledon, this time to Christo van Rensburg 7–6(4), 7–5, 7–6(3).
Sampras played seven consecutive weeks during the North American summer hard court season. He defeated John McEnroe in the quarterfinals of the Canadian Open but then lost to Chang in the semifinals. He also reached the semifinals of the tournament in Los Angeles where he lost to World No. 2 Stefan Edberg. He did not advance past the quarterfinals in his next three tournaments, losing to Chang, Richey Reneberg, and Goran Ivanišević. In September, he captured his first Grand Slam title at the US Open. Along the way, he defeated sixth-ranked Thomas Muster in the fourth round and third-ranked Ivan Lendl in a five-set quarterfinal, breaking Lendl's streak of eight consecutive US Open finals. He then defeated 20th-ranked McEnroe in a four-set semifinal to set up a final with fourth-ranked Agassi. Sampras beat Agassi in straight sets to become the US Open's youngest-ever male singles champion at the age of 19 years and 28 days. played five more tournaments and won the Grand Slam Cup to complete his year.
Sampras in 1991 captured the first of his five career titles at the year-end Tennis Masters Cup. Upon entering the US Open as the defending champion that year, he caused controversy when, after losing in the quarterfinals to Jim Courier, Sampras said that he was not disappointed and felt relieved that the pressure to defend his title was no longer on him. This led to widespread criticism, which included disparaging remarks from Courier and Jimmy Connors.