Juan Carlos Ferrero Bio
| | |
| --- | --- |
| Country: | Spain |
| Birth Date: | 12 February 1980 |
| Birth Place: | Onteniente, Spain |
| Residence: | Villena, Spain |
| Height: | 6 ft. 0 in. ( 1.83 metres ) |
| Weight: | 160 lbs. ( 72.7 kilos ) |
| Plays: | Right |
| Turned Pro: | 1998 |
Photos:
Juan Carlos Ferrero
Juan Carlos Ferrero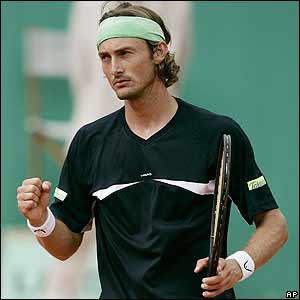 Juan Carlos Ferrero
Juan Carlos Ferrero
Juan Carlos Ferrero
More About Juan Carlos Ferrero
Juan Carlos Ferrero produced the upset of the tournament on the men's side, as well as the most exhilarating match so far, in defeating 7th seed Gael Monfils in a hotly contested, nearly five-hour marathon on Armstrong.
Ferrero was the much steadier of the two players, and after weathering a storm of Monfils winners in the first three sets, the Spaniard appeared to grow in both strength and self-belief. In the final two sets, the veteran was the much fresher of the two, and Ferrero, nicknamed "El Mosquito," began to push the physically more more imposing Monfils around the court.
Ferrero has won 16 career singles titles, going back to 1999. Yet some may consider the 2003 French Open champion – who spent just eight weeks as the No. 1 player in the world in the same year – little more than a one-Slam wonder. Now 31, Ferrero is down to 105 in the rankings and has been beset by injury. He missed the Australian and French Opens, as well as Wimbledon this year. But rather than retire, as many his age have as their bodies began to break down, Ferrero has battled back into playing shape, and he even won returned to the winner's circle this year in Stuttgart.
With his gritty, hard-fought victory over Monfils (the Spaniard's second consecutive five-set match), in his 12th US Open, where he reached his only final in 2003, Ferrero deserves to be thought of as a tough-as-nails fighter.
The standing ovation he received moments before serving out the match was sweetly deserved.