Patrick Vieira
(born 23 June 1976 in Dakar, Senegal) is a retired French footballer of Senegalese descent who is the Football Development Executive at Manchester City.In September 1996, the incoming Arsenal manager Arsène Wenger requested Vieira's purchase from Milan prior to taking up his position. Vieira was signed for £3.5 million, a figure which would be deemed a bargain in years to come.His height, stamina and physical strength allowed him to settle into the English game quickly, while his composure and the quality of his passing cemented his position as an integral part of Wenger's stylish attacking side. Forming a powerful midfield partnership with French compatriot Emmanuel Petit, Vieira won the Premiership and FA Cup Double in 1998, his first full season at the club.That summer, he was called up to France's 1998 World Cup squad.On 14 July 2005, Arsenal accepted a bid of €20 million from Italian giants Juventus and Vieira agreed a five-year contract with the Serie A side the following day. One of the reasons for his transfer was also the emergence of teenager Cesc Fàbregas, who had played in place of Vieira when the latter was injured.On 8 January 2010, it was confirmed that Vieira was having a medical at Manchester City and he would sign a six-month deal, where he would link up with former Arsenal colleagues Kolo Touré and Sylvinho. The contract also includes an option for a 12-month extension.Manchester City manager Roberto Mancini described Vieira as an excellent midfielder with a winner's mentality and that he would fit into Manchester City's squad very well.He made his debut for Manchester City in the 2–1 defeat to Hull City. Three days later he made his first start for City against Bolton where he assisted Emmanuel Adebayor through a long ball in the 2–0 victory. He scored his first goal for the club against Burnley in their 6–1 win on 3 April 2010.On 9 June 2010, Vieira agreed to a one-year extension to his contract, which will keep him at Eastlands until the summer of 2011. On 11 September 2010, he started his first game in his second season for the club and went on to score the equalizing goal against Blackburn before being substituted in the 65th minute. On 18 January 2011, he scored his second goal of the season in Manchester City's 4–2 third round replay against Leicester City, this was his 50th appearance in the competition and the goal that he scored was the first goal he scored in the F.A Cup since he scored Arsenal's winning penalty in the 2005 F.A Cup Final against Manchester United. He continued his passion for the F.A. Cup by scoring the first two goals during their 5–0 win in the Fourth Round replay against Notts County and was awarded Man of the Match honours. He was praised for how well he linked up with Aleksandar Kolarov. Vieira also scored in the Barclays Premier League on the 3 April 2011 against Sunderland, having come on as a substitute for Adam Johnson in the 66th Minute. He scored no less than a minute later having touched the ball into the goal. He made a late substitute appearance in May 2011 as Man City won the FA Cup with a 1–0 win over Stoke City at Wembley. On 14 July 2011, Vieira announced his retirement from playing and accepted a training and youth development role at Manchester City with the title of Football Development Executive.Vieira retired in July 2011 to take up an off-pitch role with Manchester City.On a less positive note, he also ranks among the players to have appeared in the English game with the worst disciplinary record, having been sent off ten times during nine years at Arsenal.
Premier League Legends - Patrick Vieira




Vieira chose to make his debut for France in 1997 against the Netherlands. He was part of the France squad in the 1998 FIFA World Cup. He came on as a substitute in the final against Brazil, and set up Emmanuel Petit for France's third goal in a 3–0 win.He, with the rest of the squad, received Knight of Légion d'honneur, France's highest decoration, in 1998.He subsequently played as a first choice midfield player in France's successful campaign in Euro 2000, which they won, beating Italy in the final.He helped France to victory in the 2001 FIFA Confederations Cup, ending the tournament as joint top scorer with two goals, including the winner in the final against Japan. He also played in all three games in the FIFA World Cup 2002, in which France were eliminated in the group stage, failing to score a goal. He was injured and missed France's defeat to Greece at Euro 2004.Vieira was appointed France's national team captain on Zinédine Zidane's retirement from international football. Nonetheless, he and veteran defender Lilian Thuram were instrumental in convincing Zidane to end his retirement and help the flagging campaign to qualify for the 2006 FIFA World Cup. Vieira even handed back the captaincy of the team to Zidane.On 23 June 2006, his 30th birthday, Vieira took the captain's armband for the match in place of the suspended playmaker Zidane, whom he shared the birthday with, scoring the first goal when France beat Togo 2–0 in the group stages of the FIFA World Cup 2006; Vieira set up Thierry Henry for France's second. This win helped France advance to the knockout stages, coming second behind Switzerland, and it prolonged Zidane's international career. In the round of sixteen, Vieira scored the second goal in France's 3–1 defeat of Spain; France went on to beat favourites Brazil 1–0 in the quarter-finals, and Portugal by the same score in the semi-finals, which gave them a place in the final against Italy. Vieira was one of the best midfielders at the tournament with a string of fine performances. Vieira started the final, but was substituted due to injury in the second half, likely sustained when he collided with Italian defender Fabio Cannavaro. Italy won 5–3 on penalties after the game finished 1–1 after extra time. As of 23 November 2006 Vieira has appeared 100 times for France, scoring 6 goals.On 5 August 2006 Vieira was reappointed captain of the French national team for the Euro 2008 qualifying campaign. However, he played no part in the group games at Euro 2008 for a struggling France due to a niggling knee injury.His last cap with the national team was on 2 June 2009 in a friendly match against Nigeria. He was not included by coach Raymond Domenech in France's squad for the 2010 FIFA World Cup in South Africa, and after France's failed campaign effectively announced his international retirement by declaring that he would not make himself available to play under former team-mate and new French Manager Laurent Blanc. On 7 July 2010, Vieira confirmed again that he was no longer interested in playing for France and will devote his time to Manchester City.
Patrick Vieira Trophy
Patrick Vieira Fashion Style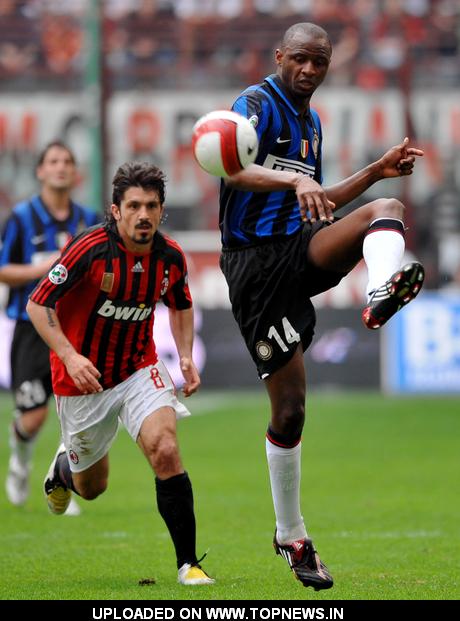 Patrick Vieira Poster
Patrick Vieira is a French footballer
Patrick Vieira Celebrated Goal