Mark Alan Webber (born 27 August 1976)is an Australian Formula One driver.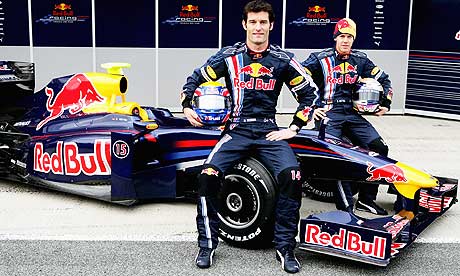 After some racing success in Australia, Webber moved to the United Kingdom in 1995 to further his motorsport career.Webber began a partnership with fellow Australian Paul Stoddart, at that time owner of the European Racing Formula 3000 team, which eventually took them both into Formula One when Stoddart bought the Minardi team.
Webber made his Formula One debut in 2002, scoring Minardi's first points in three years at his and Stoddart's home race. After his first season Jaguar Racing took him on as lead driver. During two years with the generally uncompetitive team Webber several times qualified on the front two rows of the grid and outperformed his team mates.
His first F1 win was with Red Bull Racing in the 2009 German Grand Prix, which followed second places at the 2009 Chinese, Turkish, and British Grands Prix. By the end of 2009, Webber had scored eight podiums, including another victory in Brazil.
His eight podiums in 2009 compares to only two podiums in the first seven years of his career. He has since added ten more podiums in 2010, including victories in Spain, Monaco, Britain and Hungary. Webber finished the 2010 season in third place having led for a long period, losing out to teammate Sebastian Vettel.
Webber was also a long-term director of the Grand Prix Drivers' Association, the Formula One drivers' union.
Webber started the 2011 season with a fifth place finish at the Australian Grand Prix, having started from third on the grid, after struggling to keep up with team mate Vettel due to a damaged chassis.In Malaysia, he qualified third but his KERS completely failed at the start and as a result, dropped down over 10 places but staged a strong recovery back to 4th, with fastest lap. In China he qualified eighteenth after another KERS failure, but passed 15 cars on track to finish third. In Turkey, Webber qualified second – his best qualifying result of the season at that point – but lost the position to Nico Rosberg at the start. After passing Rosberg and reclaiming second, he then spent the rest of the race battling with Fernando Alonso, ultimately finishing second after passing Alonso with 8 laps to go. In Spain, Webber secured pole, but lost ground at the start again and had to settle for fourth. Webber qualified third in Monaco but dropped a place at the start and later a pit stop delay dropped Webber outside the top ten, however he recovered to fourth by passing Kamui Kobayashi on the penultimate lap, and set his fourth fastest lap of the season.