Damon Lamon Stoudamire (born September 3, 1973) is a retired American professional basketball player who is currently an assistant coach for the Memphis Tigers men's basketball team. The 5 ft 10 in (1.78 m), 171 lb (78 kg; 12.2 st) point guard was selected with the 7th overall pick by the Toronto Raptors in the 1995 NBA Draft and won the 1995-96 NBA Rookie of the Year Award. He played collegiately at the University of Arizona, and professionally for the Toronto Raptors, Portland Trail Blazers, Memphis Grizzlies and San Antonio Spurs. He is the cousin of former Arizona Wildcats standout Salim Stoudamire.
Stoudamire had a noteworthy rookie season with the Toronto Raptors, being the team's first ever draft pick, and averaging 9.3 assists and 19 points per game. He earned the nickname "Mighty Mouse" because he stands only 5 ft 10 in (1.78 m), and that he had a Mighty Mouse tattoo on his right arm going into his rookie season. He set the record for three point field goals made by a rookie with 133 breaking the record at the time held by Dennis Scott. This record has been broken several times over since Stoudamire's 133 mark. It is currently held by Stephen Curry, who made 166 threes in his rookie season. Stoudamire is third in assist average by a rookie. He ranked second in scoring among all rookies in 1995-96, and led all rookies in minutes played and assists. He received the Schick Rookie of the Month award twice and unanimously made the Schick All Rookie First Team, and eventually won the Rookie of the Year award, receiving 76 of the possible 113 votes, and the MVP award of the Rookie All-Star Game. He holds the record for being the third-lowest draft pick (7th overall) to ever win the Rookie of the Year award, with the lowest being Mark Jackson (18th overall). He is also known as the shortest player to ever win this award. He did not play the last 10 games of his rookie season due to tendinitis in his left knee. The Raptors finished that year and his rookie season with 21 wins and 61 losses.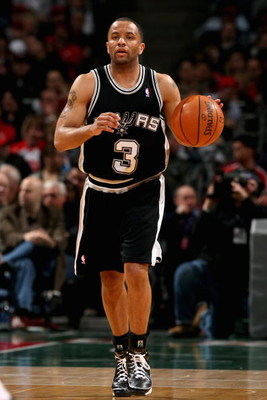 On February 13, 1998, he was traded by the Raptors along with Walt Williams and Carlos Rogers to the Portland Trail Blazers in exchange for Kenny Anderson, Alvin Williams, Gary Trent, two first-round draft picks, a second-round draft pick and cash considerations. As a member of the Blazers, his stats fell somewhat from his career highs. In the 2001-02 season, the Blazers benched Stoudamire for most of the time. The new head coach, Maurice Cheeks, went with Scottie Pippen and Bonzi Wells instead at the guard positions. However, Stoudamire received significant playing time in the playoffs that season.
On January 14, 2005, Stoudamire hit a career-high and Blazers franchise record 54 points, which included 8 3-pointers, against the New Orleans Hornets. The same season, on April 15, he shot an NBA record 21 3-point attempts, making only 5 of them.
Stoudamire's contract with the Blazers expired at the end of the 2004-05 season, and it became widely known that the Blazers, who were focusing on youth movement and looking for players with good character, had no intention of re-signing him. This became abundantly clear in August 2005, when the team signed free agent guard Juan Dixon to a contract, and assigned him Stoudamire's uniform number (3). Stoudamire wanted the Blazers to work out a sign-and-trade deal whereby he would end up with the Houston Rockets, but since this would have required Portland to take one of Houston's overpaid players in return and the team, at that time, had a relatively high payroll, Portland management decided to go in another direction with players like Travis Outlaw and Sebastian Telfair.
On August 5, 2005, after Stoudamire had been in discussions with several teams, it was announced he signed a 4-year deal with the Memphis Grizzlies, where he replaced Jason Williams, who left for the Miami Heat, as the starting point guard. On December 30, 2005, he tore his right patellar tendon, coincidentally in his hometown of Portland. He was carted off the court, and had successful surgery in Birmingham, Alabama the following week. He missed the rest of the 2005-06 season, returning for 2006-07, and ended up playing 62 games, of which he started 51 (evenly splitting point guard duties with veteran backup Chucky Atkins).
During the 2007-08 season, on NBA Access with Ahmad Rashad, he said that he was working hard with Mike Conley, Jr., a 2007 draft pick by the Grizzlies, who, after Stoudamire had left, would play a major role as a point guard. When Conley returned from an injury, Grizzlies head coach Marc Iavaroni placed Stoudamire on the inactive list and used inexperienced rookie Mike Conley as the starting point guard, causing Stoudamire to look for a trade or a buyout. On January 26, 2008, the Grizzlies reached a tentative contractual buyout agreement with Stoudamire,with the San Antonio Spurs, Boston Celtics, Phoenix Suns, Denver Nuggets and Toronto Raptors registering strong interest in signing him.On January 28, the buyout was completed and Stoudamire was placed on waivers.The Celtics initially showed strong interest in Stoudamire but since set their sights on the LA Clippers' Sam Cassell.According to Stoudamire's agent, Stoudamire was to sign with the Spurs.