Amar'e Carsares Stoudemire(born November 16, 1982) is an American professional basketball center and power forward for the New York Knicks. Taken in the first round with the ninth overall pick in the 2002 NBA Draft, he spent the first eight years of his career with the Phoenix Suns. He is listed by NBA.com as 6 feet 10 inches (208 cm) and 240 pounds
Amar'e Stoudemire is an American basketball Player
Stoudemire won the NBA Rookie of the Year Award in 2003, made six appearances in the NBA All-Star Game, made first-team All-NBA in 2007, and won a Bronze Medal with the United States men's national basketball team at the 2004 Olympic Games.
Amar'e Stoudemire on Competition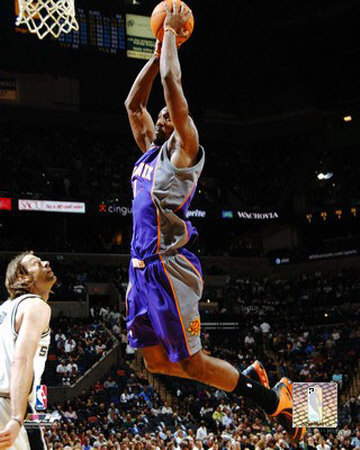 Stoudemire's first name had previously been listed in the Phoenix Suns media guide as Amaré or Amare, but it was changed to Amar'e in October 2008.Stoudemire told NBA.com that his name had always been spelled Amar'e, but the media had been spelling it incorrectly since he joined the NBA.
Amar'e Stoudemire Performance
In the 2009–10 season, Stoudemire would eventually lead the Suns to a 54–28 record, clinching the third seed in the Western Conference. The Suns would defeat the Portland Trail Blazers 4–2 during the first round and beat the San Antonio Spurs 4–0 in the Conference Semifinals, to meet the defending champion Los Angeles Lakers in the Conference Finals. After dropping the first two games, Stoudemire would score 42 points in game 3 and 21 in game 4, to help the Suns tie the series 2–2. After Ron Artest's buzzer beater in game 5 and Kobe Bryant's 37 points in game 6, the Suns lost the series 4–2.