Monica Seles (born December 2, 1973) is a former World No. 1 professional tennis player and a member of the International Tennis Hall of Fame. She was born in Novi Sad, Yugoslavia to Hungarian parents. She became a naturalized United States citizen in 1994 and also received Hungarian citizenship in June 2007. She won nine Grand Slam singles titles, winning eight of them while a citizen of Yugoslavia and one while a citizen of the United States.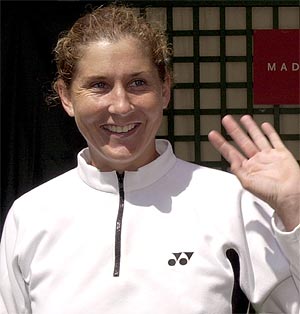 She became the youngest-ever champion at the 1990 French Open at the age of 16. She was the World No. 1 player in the women's game during 1991 and 1992, but in 1993 she was forced out of the sport for more than two years following an on-court attack in which man stabbed her in the back with a 9-inch-long knife."1993: Tennis star stabbed"
She enjoyed some success after returning to the tour in 1995, including a Grand Slam singles title at the 1996 Australian Open, but was unable consistently to reproduce her best form. Seles played her last professional match at the 2003 French Open, but her official retirement announcement was not issued until February 2008.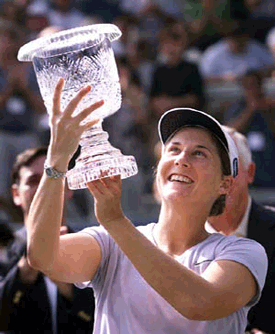 Seles was listed as the 13th greatest player of all time (men and women) by (U.S.) Tennis magazine and was also one of 15 women named by Australian Tennis magazine as the greatest champions of the last 30 years (players were listed chronologically).
Monica Seles is the Goodwill Ambassador of IIMSAM, the Intergovernmental Institution for the use of Micro-algae Spirulina Against Malnutrition (IIMSAM) where she joins people like Diego Maradona, Tushar Gandhi, Sanjay Dutt, Carolina Herrera and Barack Obama's family to make Spirulina, a key driver to eradicate malnutrition, achieve food security and bridge the health divide in order to secure the United Nations Millennium Development Goals with a special priority for the developing and the least developed countries.
Monica Seles Performance
On April 21, 2009, Seles released her memoir Getting A Grip: On My Body, My Mind, My Self which chronicles her bout with depression and food addiction after her stabbing, her father's cancer diagnosis and eventual death, her journey back to the game and a life beyond tennis.
Monica Seles Looks so Beautiful