Lance Edward Armstrong
(born
Lance Edward Gunderson
on September 18, 1971) is an American professional road racing cyclist who rides for
UCI ProTeam
Radio Shack. He is also the founder and chairman of the Lance Armstrong Foundation for cancer research and support.
7 time Tour de France winner Lance Armstrong has been ordered to stand trial in Italy for defaming Filippo Simeoni. It's reported that Lance chased Simeoni during the 2004 race threatening him for testifying in court that Lance illegaly used blood doping to gain a competitve advantage. "The other part of the charge relates to doctor Michele Ferrari, who was given a 12-month suspended jail sentence in October 2004 for sports fraud and malpractice. He has always denied he dispensed illegal substances to athletes and is appealing the sentence." Lance had connections with Ferrari, but cut ties with him after the conviction.
I'm not worried about whether or not Lance is guilty of defaming Simeoni. No one cares about that. If convicted Lance will have to pay some small fine and will get on with his life. The bigger question here is whether or not Armstrong has ever used performance enhancing drugs or methods during his pro cycling career. Armstrong is a cancer survivor and has denied use of steroids or other methods his entire career.
Armstrong has been extremely cooperative when dealing with these political types who like to throw out false acqusations. Lance has said they can test him any day of the week. He was already being tested 30 times a year while he was cycling. They havetaken his blood and urine and saved it in pouches. They've had his blood frozen for 5 years and it still tests clean.
It's my opinion that the French and Italian are a bunch of snobs and are pissed that an American won their race and holds the record for most Tour de France victories. I'm not saying Lance doesn't have the means to cheat. Any athlete with his kind of money can find doctors to create masking agents that block the drugs from showing in the tests. I believe that if Lance is so willing to get tested and will step to the front of the line everytime, that he is clean.
For those of you who don't know, blood doping is a method of extracting your own blood and reinjecting it into your body a day before a race. This will give your body millions and millions of extra red blood cells, which carry oxygen throughout your body. It reduces fatigue and allows you to cycle for longer periods of time at higher rates. Blood doping is illegal. It is a little harder to detect because you are using your own blood and aren't putting any foreign substances in your body. The way it is tested is by checking the number of red blood cells in the body. Anything above the normal amount is considered cheating.
Lance is a hero in America. He is given a free pass wherever he goes, and rightly so. I would be shocked and devistated if Lance were to test positive for performance enhancing drugs. He is an idol to millions of people around the world, including the entire cancer surviving community.
lance armstrong
LanceArmstrong5
Lance Armstrong AdH01
lance armstrong france
lance armstrong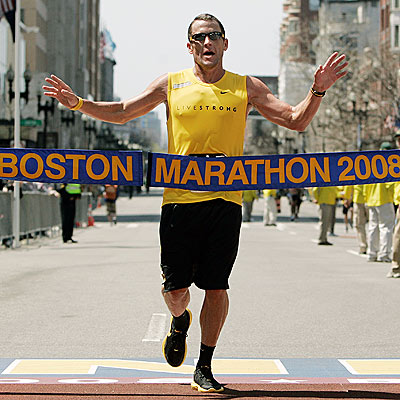 lance armstrong
lance armstrong1
Lance Armstrong Visit
lance collarboneweak
lance armstong victory